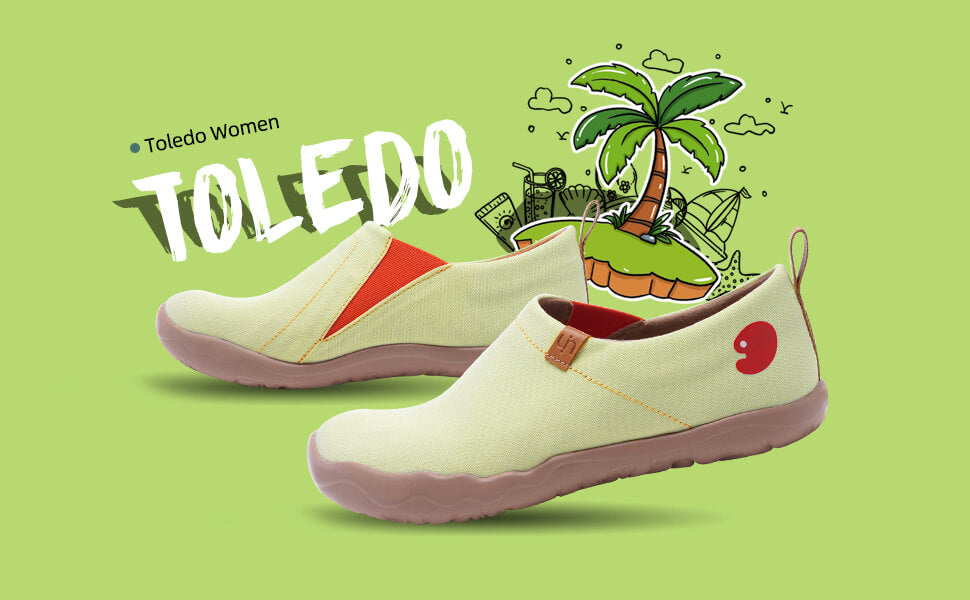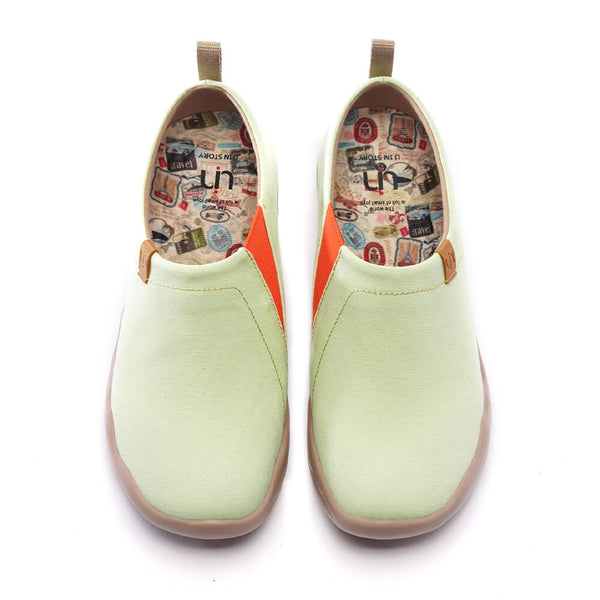 Material
Upper:Canvas / Heel Lining:
Short Plush / 
Insole:Ortholite / Outsole:EVA / Closure Type:Slip-On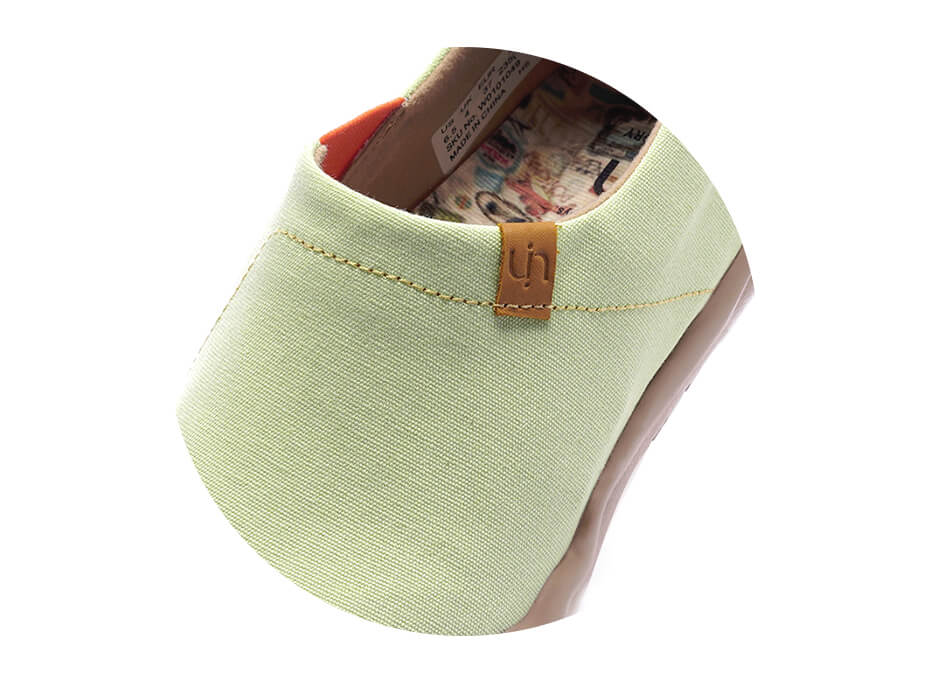 Foot Shaped Design
The shape of insole resembles the shape of the feet with wider toe space
Soft and Flexible
Soft RPS cushioned insoles offer all-day comfort
Super Lightweight
14 oz per pair, offer barefoot nature
Born in Toledo, Spain - UIN Footwear's pairs are a testament to two passions — travel and art. As discovering new places is associated with excitement and joy, UIN canvas shoes underline those positive feelings through colorful and artistic patterns. Although each story is different, we strongly believe that with a positive attitude, even the most challenging situation or demanding travel plan can be successfully completed. That's why undergoing new adventures and coloring stories are the way to express beauty, passion and freedom. U IN Story: Paint your story, Free your sole. The artistic touch of Fernando Acevedo's design highlights the enthusiasm to life, chase for freedom and love for traveling. UIN painted canvas shoes are crafted simply for free spirits who embark on all of life's adventures in style.
UIN shoes are the result of the aesthetic vision of Fernando Acevedo – Spanish artist strongly linked with Barcelona and Toledo. Inspired by the exceptional artwork of Antoni Gaudi, Fernando incorporated subtle Spanish elements into UIN shoe design. This is why UIN Footwear bears Acevedo's signature – a map of Spanish city Toledo imprinted on the underside of each shoe. Additionally, all UIN shoes pay tribute to Gaudi's artwork Casa Milaà whose wavy structure was adopted in a curvature of UIN shoe sole representing Gaudi's artistic belief – "The straight line belongs to men, the curved one to God."  
1. Soft RPS Cushion incorporated in UIN loafers.
The insoles of UIN loafers are made of soft and breathable OrthoLite material that provides a comfortable fit and sensory stimulation. Soft RPS Cushion with the responsive technology applied is designed to deliver massage experience and exceptional comfort during both static and dynamic activities. Soft external Cushion elements stimulate feet gently, while the inner part of the foam prevents insole compression. Unlike traditional cushion, UIN RPS insole compresses less than 5% across the product's lifetime, providing long-lasting fit, performance, and comfort. High-breathability materials eliminate the moisture, maintaining a dry environment for the feet. Unique features of carefully selected breathable materials mask unpleasant odors and act as a buffer to protect your feet from harmful microbes. UIN Soft Responsive Cushions are easy to maintain due to washing machine friendly features. 
2. SARP Shock Guard Technology
UIN loafers have cutting-edge SARP Shock Guard Technology integrated for the purpose of reducing foot pressure. The parts of the feet which are the most exposed to the pressure during dynamic activities are covered with Ethylene-Vinyl Acetate known for its shock-absorbing properties and buoyancy. The remaining part of UIN insoles is made of the carefully chosen proportion of OrthoLite and Ethylene-Vinyl Acetate to deliver the optimal balance between support and cushioning. SARP Insole Solution incorporated in UIN loafers' pad effectively absorbs shocks and reduces foot pressure allowing to minimize the risk of injuries and improving comfort for prolonged walking & standing sessions. The versatility of SARP shock guards helps to distribute pressure, provide stability, balance, and comfort during both static and dynamic activities.
 3. Arch Support System
UIN Footwear incorporates in its insole structure Arch Support System to provide a firm platform of arch support and therefore preventing overpronation associated with flattening of the feet. Integrating Arch Support System with a shoe foam makes UIN insole suitable for individuals with the highest expectations of comfort. The arch support system is designed to reduce the occurrence of Plantar Fasciitis pain and significantly improve comfort during extended periods of standing and walking sessions. Arch Support System incorporated in UIN loafers helps to maintain correct body posture, comfort, and protection. 
Measure Your Feet for A Perfect Fit! 
Place a paper sheet on the floor against a wall;

Stand on  the paper sheet placing your heel against the wall;

Draw a mark at the end of your longest toe;

Measure the distance between the mark and the border of the paper sheet.
We have put a lot of focus on making sure the items get delivered to our customers as quickly as possible. You will receive your order in 10-20 business days from the date that it is placed.
Verification
A confirmation email or message will be sent to you once the order is authorized and verified. We begin preparing your order immediately after it is verified. With this sort of time frame, it makes it difficult for us to change or cancel your order, however, we will do our best to support your request.
Processing
It normally takes 1-2 business days for us to process your order. Please note that this does not include holidays and weekends.
Shipping
UIN warehouse is mainly located in China, therefore, for international shipping, shipment normally takes 10-20 business days to arrive. Please refer to the table below for various shipping time to international destinations.
SHIPPING TO All Over the World:
For Faster Shipping,
For detailed information on faster express delivery, please contact our customer service person for more detail, contact now: info@uinfootwear.sg
 
* Shipping time is estimated and commences from the date of shipping, rather than the date of order, and can take longer than expected date due to invalid address, customs clearance procedures or other causes.

* Please submit a ticket within 6 months of shipment if the package does not arrive in time, our representative will get back to you within 24 hours. Note that overdue requests may not be accepted.
Delivery     
Log in to your account and confirm receipt.
Beautiful design, Great Color palette, the Shoe Shape is perfect & Has a Keen Mary Jane feel and
These are as adorable as they are in the photos. I only hesitated because the side view photo made them look a bit dowdy, but the orange elastic convinced me otherwise -as it was the perfect complimentary color for these shoes. If they speak to you because of the design, get them. If you are a rounded toe box girl/woman, get them.Remember Sam & Libby shoes you might have worn in the 90s? the round toes remind me of a pair I had, but without the platform height. The comfortable Keen Mary Janes I have worn all summer long feel just like these in the foot bed (if that is the right term).These will need to be broken in just a bit on my right heel, but I placed a book on the heel overnight so that it would not press so much onto it & soften it up. I might need to put a silicone patch on the heel for a few days for added support if I dont wear a sock with them, just until I break them in a bit more. Blisters are for middle school me - in my Candies brand 1986 jelly shoes. I am an 8.5 wide width with a high arch more on the left foot and they fit perfectly. - I love looking down at them. I read Other reviews, as you are reading mine, and someone did not like how round the shoe was, but thats one thing I look for in a shoe; I own a 20 year-old pair of very round Doc Martens and worship their circumference from a high orbit. I dont like a pointy shoe nor a narrow design, so this is purely a beholder aesthetic. I am a quirky artist and paint lots of my art on oval canvases, So yeah- go figure. Bear shoes. I will be able to wear these either alone or with a slim trouser sock as I transition into early fall. I will update this review as they get broken in and the season progresses into the new year.There are those of us that this shoe will speak to, and if you are slightly interested as I was, I would say yes. I ordered on a Thursday and they arrived they following Saturday.
Cute and comfortable
These are really comfortable and they're so stinking cute. Good to wear if you don't feel like taking yourself too seriously.Unlike some other folks, I don't have trouble getting them on and off.To determine my size, I stood on a yardstick and asked my daughter to tell me how many centimeters long my feet are. My daughter's not available, so you'll need to measure your feet on your own.