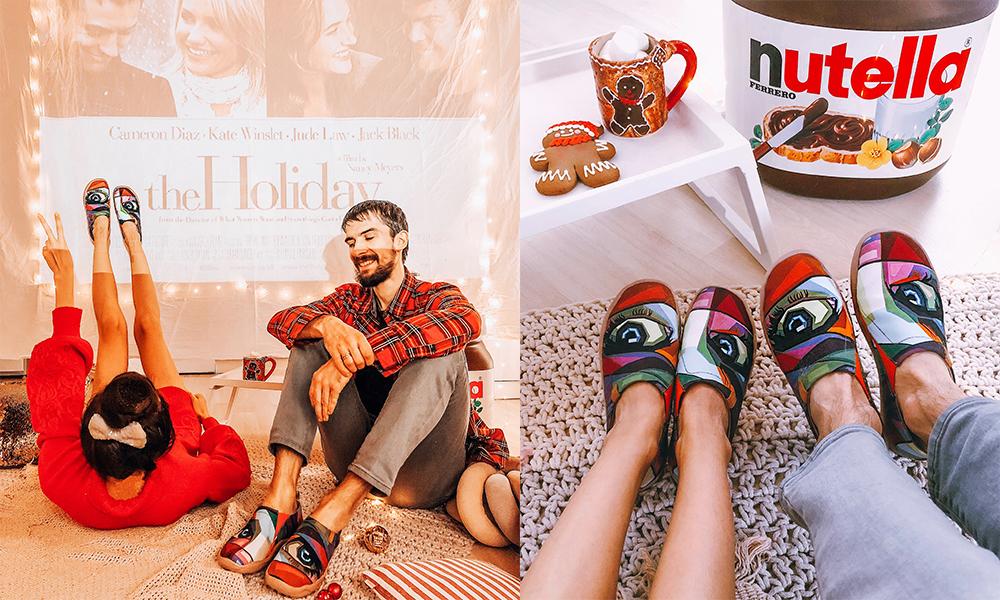 ---
36 products
I have not received the purchase yet
Love my UINs but watch the sizing instructions- they didn't work for me.
I love my new shoes. They are so fun and cheerful and the soles are so soft and comfy. However, I followed the sizing instructions but they are slightly too small and the side is rubbing my toe. And the funny thing is that if I HADN'T followed the instructions and simply bought my regular shoe size, it would have been better.
Sch?n, apart, herrlich bequem!
Mein zweites Paar dieser tollen und ungew?hnlichen Marke: Meine F?e und ich lieben sie - ich zahle gern etwas mehr fr diese absolute Qualit?t und Extravaganz!
Good product
I like these a lot and received many compliments on them.
Badass
Awesome , beautiful everyone IMy family got one from Santa
Comfortable canvas all around, one of a kind easy-on shoe.
I now have 2 pair of UIN slip-ons, with a 3rd on it's way. Canvas with a rich look. Quite comfortable and easy-ons. Lots of compliments on an original shoe look. The future looks bright that I will be buying more.
Comfortable walking shoe
Great .. very comfortable. Only one downside .. I have to wear socks with them because they are wide at the back. Okay for colder weather but will not function in summer season for me. However even with this width issue the shoes are unbelievably comfortable.
Does fit too large
I absolutely love these shoes but just wanted to warn about the sizes. I usually buy a 9, an 8.5 I CAN fit into but my toes will usually be touching the tip of the shoe too tightly, so that's why I buy 9's. I purchased these in a 9 and they are waaaay too big. There is at least an inch and a half of extra space from my toe to the tip of the shoe, and the opening where you put your foot in is also too large. It should obviously be more snug around your ankle. So if you are like me and are on the edge of being a half size, I would recommend buying the half size and not a size up. For some reason Amazon is not letting me do just an exchange, but I have to fully return the shoes, and order the correct size, paying for them again, and then Amazon giving me Amazon credit instead of just refunding my money or letting me do an even exchange. Just another unnecessary action I have to take just to get correctly fitting shoes. Don't make the same mistake as me!
Cute but not a great fit. Overpriced.
I bought these because I loved the artwork on the shoes. Sadly they are very thin canvas and definitely need an extra arch support. I dont think they are worth the price I paid but Im keeping them anyway because they are so funky looking.
Great for wide-ish foot. Good cushioning.
Love these. My second pair
Too Big, but Normal Size, Hassel to Return
Cute & Fun
Very cute & fun. More cushioned than expected.
Comfort and style ?
I love the comfort and style. Wide at toe which is a must for me. Usually wear 9.5 or 10. 10 was too big and ordered 9 which is perfect!
Great work shoe
This is the 3rd pair of these shoes I have ordered. I have a wide foot and they have plenty of room in the toe box. Wear them all day in my cleaning business
Super cute and comfy!
I purchased these for my daughter and she absolutely loves them. They are a little wide, but her feet arent exactly narrow. With a smart wool sock they fit perfect, especially considering she lives in Colorado. She gets up and walks her dog around her apt. complex. She is in love with the colorful motif. Just great, comfy, slip-ons!
Thumbs (or big toes) up!
Light as a feather, and since I prefer to be barefoot when at all possible I love barely there shoes. Easy to slip on and super cute. Its a bit wide but Im really narrow in the foot, so it doesnt take much to create gaps around my foot. Plan to check out other patterns or colors.
super cute and comfy.
This is my 4th pair of UIN shoes. They are always very clever designs, and fit true to size for me. There is a tiny bit of variation in my shoes, some a little bigger across the instep, etc. but overall fine. Very lightweight and soft. I get compliment every single time I wear a pair.
First pair were waaay to large!
My normal size is 8.5/40 so I ordered that size first. They were huge!! So I returned that pair and ordered a size 8/39.....they were waaay to small. So thinking my first pair may have been mismarked, I ordered the 8.5/40 again and they fit perfectly! I believe the first pair must have been mismarked.
Comfortable and Stylish
Received these shoes yesterday as an early Christmas gift. I wear a 7 1/2 W normally. The 8 was perfect! Well-made, and very comfortable. I foresee bringing these on my vacation in the Spring for walking. Love the artwork. Product picture and color scheme matches was I received. I will be purchasing more of these in the future!
Quite comfy
My husband recently passed away and his nickname was Bear. When I saw these shoes I just had to buy them. They are a bit wide, so I replace the insole with an arch support one. The shoes fit better with the new insole and I am able to wear them all day without any foot pain. I love them.