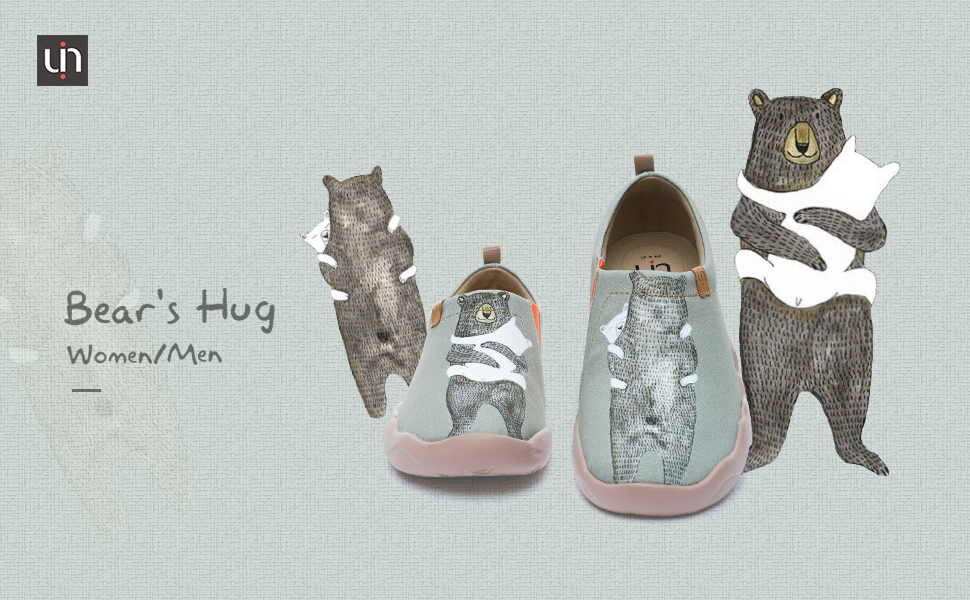 ---
26 products
Bear's Hug footwear UIN
These are the most comfortable sneakers I've owned- well worth the price- true to size and the design is sweet!
Bears Hug💜🐻
These shoes fit me perfectly and are extremely comfortable. Recommend they highly 🌟🌟🌟🌟🌟
Exactly like the pic!! Mum loved it
I love this! Very easy and lovely. :)
Love my shoes!!!
The colors are bright and beautiful. Fit as expected and very comfy. When I wear them someone has to ask me where I buy it. 😍
WOW
I just received my new shoes. They fit perfectly. The colour is not as bright as I was hoping for but the fit is perfect!
Excelente producto
fue un regalo para mi esposa y ella esta encantada con el producto
Magnifique
La qualité du produit est excellente et ils sont très confortable ! En plus, je fais des jalouses 😊
So many compliments!
Every time I wear these I get lots of compliments. They're so fun and comfortable!
Love these shoes!
My husband, size 12, and I ordered each a pair. We love them. Colourful,comfortable and so fun to wear! I ordered another pair and one for our daughter. Takes a long time to come but worth the wait.
Still waiting
Ordered 2 months ago. Still have not received them.
Love, love, love
Love everything about these shoes. The color and pattern is beautiful. They run a bit wide and big for my feet (6.5 size) but so comfy. My only problem is I want more pairs!
Thank you for your love, wish you a wonderful journey with UIN footwear
Sakura
Very comfortable to walk, slip on and off.
Attractive art design and color.
No shoes delivered
My shoes did not arrived.
Walk with Sakura
My wife like UIN footwear because they are comfortable and a joy to walk in. Sakura is her second pair from UIN footwear. As for me, I like UIN footwear for their pastel-like colours and myriad designs. This pair of Sakuras fit in nicely for her Mother's Day present!
Nice and Bright
Got my shoes today. I absolutely love them.
Gotta get another pair
My Sakura's arrived today and I'm so thrilled I'm going to get another pair. Oh decisions, decisions. So many lovely designs.
Cute shoe and comfy😊
Skeptic at first but thankful i bought it.
Super comfy and DELIVERY DATE WAS EARLIER THAN THE 10DAYS EXPECTED DAY.I got the pray for goodness and Hana and i looooove them great for any outfit and everyday use im planning to get 2 more and i cant promise its gonna be the last😂
They look beautiful and feel great
Good but my expectation was slightly higher
Slightly bigger than my usual size (I followed the chart). I usually wear 39 but chart indicates i should get 40. Anyway, that is ok as I just put insoles. The color is darker than the photos. It is comfortable except slight grazings at the back of my feet (above the heels).
Cute Comfy Shoes
Love these shoes! Super cute, light weight and appear well made so far! Love the artwork. My only suggestion is to size up if in between sizes. My shoes are a little snug but still work.
Order not received
Please be advised that I have not yet received my order.
I really love these funky little shoes.
These shoes are adorable and comfortable. I have been looking at these shoes for months and finally pushed the button to purchase. I am so glad I did! Great travel, errand or hanging out shoe. Colors are vibrant and the sole is comfy. I will buy a second pair!
Nice and comfy but a bit large.
Love these shoes. So comfortable. I have 8 pairs of these shoes in all different patterns.
A little big
I love these shoes but they are a little big. If you have a somewhat narrow foot, these might not be a good fit. I still love them!!